Date Beat: 05.22.2014
Score: 10/10
Along with Yoshi, my second favorite Nintendo character has to be Kirby. He is my favorite to use in Smash Brothers (because of his copy ability) and the game that I rented the most from Blockbuster (besides Yoshi's Story and Conker's Bad Fur Day) was Kirby Crystal Shards.
So, naturally...anything Kirby that comes out, I generally have to get it. Naturally, when I went to the PX on my woman's base and saw that Kirby Triple Deluxe came out, I had to buy it (I was itching for a new game anyways).
So, here is the thing. I did not come into Kirby games until Crystal Shards, which means I was have pretty high standards when it comes to this series of games. I own the originals like Kirby's Dreamland and Dreamland 2 (I even recently downloaded Kirby's Adventure from Club Nintendo---it goes away on June 8th though so get it fast), but, no game (to me) is better than Crystal Shards...so, even though I hold this idea about what a Kirby game should be, I was still really impressed with Crystal Shards.
**Warning: SPOILERS AHEAD!!!**
Kirby games have always had a n interesting and yet simplistic sort of story. Basically, you are in DreamLand and Kirby is sleeping. All of a sudden, something falls into the world, and a magical stalk (called the DreamStalk) starts growing around Kirby;s house and every other place in the area. When Kirby awakes, his house is up in the sky, and, trying to figure things out, he rushes off to King DeeDeeDee's Castle. Anyways, when he arrives, the King is being kidnapped by some spider knight, and Kirby gives chase which leads you into the levels. Each Island has a series of 4-7 levels, each with 1-4 Sunstones to collect.
The sunstones are what unlock the boss stages at the end of each Island, and, like the Medallions in Mario, you can't afford to miss very many of them or else you are in for replaying a lot of levels to get a better score. You suck up enemies to steal their powers, and, it is all basic Kirby Mechanics from here on out.
As you progress in the Story, you can only wonder what is going on. Where did the stalk come from? Did the spider guy do it? I mean...he is the main badguy right? WRONG! Upon reaching the final Island, all the enemies you have come to know and love have disappeared. They have been switched with new enemies that all look like insects which is really odd. You start saving these flower people which help you to progress and you start to realize that this island you are at is not only the final place, but this place has been taken over by bugs...overrun. Long story short...you finally catch up to the Spider Knight whom then reveals that he stole The King because he believes that DeeDeeDee is the hero of the lower world. He says that the DreamStalk was released by the Flower people who hoped it would save their island, and with DeedeeDee out of the way, the flower people are doomed. When the spider knight finds out that you are the hero, he brings DeeDeeDee out of his coma and possesses him, sparking a mini-boss battle of 2 parts. Once The King is defeated you then realize that the Spider Knight is not really the final Boss, but that he is a pawn for a Bee Queen who is using the DreamStalk to siphon the life out of all the other Islands and feed into her obsession for power. This parks another 3-4 boss battle until you are finally at the end *whew*.
Crazy, right?
I mean, they are starting to pull more twists like this ever since Return to Dreamland, and extensive boss battles are nothing new for this series. But, how does it hold up when you compare the Pros and Cons and compare it to other games in this franchise? Well, lets get inot that, shall we?
The PROs:
1. Music and Graphics are always amazing in Kirby games and they only get beter with time. The music is always different per level and it always sparks the mood of the area. Even the old soundtracks that have been remixed still left you feeling pumped to play and you never had to worry about getting annoyed with any of the sound.
2. There are new powers!!! I always love it when the Kirby games introduce some new power. Granted, I miss the mechanic of mixing 2 powers like in Crystal Shards, but, I was mostly impressed with all the new classes they introduced: Beetle, Bell, Circus, and Archer,
Archer is not so new, but the way they made it work was pretty new and I really liked using this class.  Bell and Circus were not my favorite (I will be listing them in Cons) but out of all the new powers they offered, I spoiled myself by using Beetle as much as possible. Some people said that the power came off as clunky, but, I loved it!
Also, the Hypernova ability was super fun...almost like the super powers in Return to Dreamland, only, instead of just catching things on fire and blowing everything up, Kirby was absorbing the world. It was funny yet slightly distubring at the same time...but was used to solve a lot of different puzzles which I thought were really cool and creative.
3. Kirby is not so much known as a Puzzle Platformer...but this Kirby game really did it right. I liked how certain powers had to be used for certain things and was often necessary to get a sunstone (much like powers and dual powers were needed for getting certain shards in Crystal Shards). It was a familiar mechanic which prompted you to use all different types of  powers and really master them all. I like how the game made you think and experiment.
4. Keychains!!! I love it when games have extra things that you can do...and the keychain collecting was right up my alley. Keychains are scattered all over the world. You collect keychains which showcase characters from all the different Kirby games...and you can even find super rare keychains. Collecting so many earns you titles, and stuff like this always has me super excited and gets me super interested in a game and completion.
5. There is not just the storymode to keep you entertained. Kirby Triple Deluxe has many different things from a multi-player dash to a battle arena, and, once the game is beaten, you can play it again only this time it is times and you are playing at King DeeDeeDee!! It adds extra challenge to the game and gives you so much extra material that you can still be playing it for days after the game is already beat. Mix that in with trying to get 100% completion and you have a real challenge on your hands.
6. The final boss battle is exhilerating! I am not used to boss battles in Kirby to be too intense. Even the one in Crystal Shards was a little plain and just one, long, drawn-out battle. But in Triple Deluxe, not only was the boss battle a surprise (because we thought we knew the true villain but he was just a pawn), but this boss scared me (she is super demented), and the final battle was at 3-4 parts. First you have to get through the DeeDeeDee mini-boss which is two parts (they give this fucker an AXE!!!), then you go to fight the wasp queen whom you fight in her normal form, then she fuses with the DreamStalk...so, then you have to play a cannon mini-game to break through some vines. You beat her in her bloom form once, then you have to fight her one final time, only this time, using your skills with the Hypernova Seed. My palms were sweating the whole time because every time I thought I had beaten the game, it threw something else at me.
7. I like the fact that Streetpass can play a part in this. Before every boss battle, Waddle Dee throws you a healing items which is sent to the touch screen for use for when you need it. When you do the streetpass feature, you get better items, and its really cool that your friends can help you in-game.
8. I liked the mechanic for jumping between the foreground and the background...this was really cool and again, it was just one more thing which really made you use your head when you are trying to find Sunstones and keychains.
9. Level design is amazing! It never gets boring and is always fresh and new! This is not a feature throughout the whole game...but I have to mention the haunted Castle levels. There is a part where you are just running around and there is a mirror bhind you. The mirror reveals what is really there while the path you are walking is an illusion. It makes you pay attention to something else other than Kirby, and I always thought it was really super cool!
The Cons:
1. While this was not a huge deal, I hated the fact that they stole the mechanic from the "New Super Mario Bros" games. The items being reserved in the touchscreen, the sunstone collection for game advancement and etc. It was basically the same as collecting those Large Medallions in Super Mario 3D Land...and I guess it kinda bothered me that they were just recycling video-game-mechanics like that instead of trying something new.
2. The collection mechanic could get pretty hard at certain parts, but, overall the game was too easy. I mean, Crystal Shards was hard, even the original game "Kirby's Adventure" was hard...but this game was something you could breeze through. I never got below having 7 lives. Ever.
3. Speaking of lives...that was another thing that bothered me. Say you end your gaming session with the beetle power and 13 lives. When you start the game again after whatever amount of time, Kirby has lost his power and you are back down to 7 lives. I guess this would add to the challenge since you have to start fresh all over again, and it does not allow for life-pile-ups like in other games, but, more or less it just got on my nerves.
4. Bell power was too powerful. It was closer-range so its supposed to have more power...but this thing was OP. I deliberately did NOT use it because I wanted to make the game somewhat challenging.
5. Circus power is useless...that's all I'm saying.
6. Sometimes the game made it super difficult to get the sunstone. I know this is supposed to be the case, but, I would play the same level 3-4 times before getting the damned thing because it is just so hard. I mean, come on! The rest of the game is so easy, and yet, you do this? I dunno, I hate playing the levels over again because you cant just quit out once you have the sunstone. You have to keep playing until you finish the level and it just became a nuisance after awhile.
Conclusion:
I really cannot say anything truly bad about this game. The stuff I mentioned in the Cons was all stuff I really had to hunker down and think about, and, even then, it is more of a nit-picky thing than anything serious that you would have to worry about. I loved this game and other than the fact that it was too short and a bit too easy (again I am spoiled because of Crystal Shards), this game ranks among some of my favorite 3DS titles so far. It was very enjoyable and I will pick it up from time-to-time I am sure.
Anyways...this game gets a 10/10 from me.
So, leave a comment down below letting me know your favorite Kirby game and what you personally thought of Triple Deluxe. Let me know if you want to see more gaming reveiws in the future. Also, for Club Nintendo members and Kirby fans...right now until June 8th, 2014 --- Nintendo has Kirby's Adventure as a download for the 3DS (200 points).  I went and got mine yesterday and have been in nostlagia-ville since. So, if you want to, you need to hurry up and go get that before it goes away (I believe the other game is Brain Age). That's all I have for now, so, until the next one
Date Beaten: 05.17.2014
Rating: 10/10
**WARNING: SPOILERS AHEAD**
Most of the people whom have watched my channel have followed the more popular "Lets Players" like Cry, Markiplier, and PewDiePie...well, LIMBO is not a new game. In fact, LMBO is already 3-4 years old!!! How about that?
Anyways...I first heard about the game when I watched PewDiePie play it back in 2012 (I think that's when it was). I had never seen an Indie game before (I had no idea what they were), but the whole game just mesmerized me. I loved the style, the ambience. Everything about this game was really unique and drew the player in.
So, the other day I was walking around Augsburg with my girlfriend, and, we decided to go into the used media shop that we always visits when she comes over to see me. This place sells CDs, DVDs, and naturally, they sell video games (only ones that play on Cd-Roms). Well, my last visit found me "Two Worlds" which is not too bad of an RPG once you get away from all the crappy voice-acting and the lag...and a few visits before that, I found Final Fantasy Origins which had both Final Fantasy I & II --- so, I was hoping to find another treasure.
Needless to say, there behind all the Sims expansion packs was LIMBO, the limited edition box-set for 15 euro. It was a stal really, I mean, this is a really great game! So, I begged my g/f to buy it for me, and we ran home with it and began to play. The Limited edition box set came with stickers, postcards, and a bunch of other little nifty things that let you look deeper into the development and world of LIMBO.
Lets just say, it's hard to get my g/f to like something when it comes to video games, but, the minute we started LIMBO, she was hooked.
I guess that I am getting a little carried away, so, let me tell you a little more about this game:
LIMBO is a game with no real storyline, and nothing to explain who or what you are...or even where you are or why. It throws you ino this world of darkness and confusion, and the only thing you know is that, no matter what, you must proceed forward. It is implied that you ae looking for your sister (I only found this out online). There are no cinematics, no voice acting, the world is in black, white, and grey...and it would seem that anything and everything is out to kill you.
LIMBO is a 2D Platformer that works with a system that has been dubbed "Trial and Death". Basically the whole game is not so much about the platforming (all the time) as it is about the puzzles. While you can play around with some of the puzzles...with most of them, even the slightest error results in your death (which is why some people claim that this is indeed a Rage game).
Still, the puzzles range in difficulty, and where most games start off with easy puzzles which gradully get harder, LIMBO mixes it up. You might get a really hard puzzle, but the next three will be a breeze before you get stuck again...and you WILL get stuck. My g/f really likes puzzles and a challenge...and with LIMBO's easy controls, she was right in her element which is why she loved the game so much. Even with the lack of story, the atmosphere alone will draw anyone in.
There really is no music, and you really feel as though you are all alone in this dark and eerie world.
As I said...the puzzles range in difficulty, but the hard ones are really HARD. Leap of faith after leap of faith and you will still wonder what your supposed to do. Button mashing rarely helps, and sometimes you will just sit there looking at the screen and know that you're missing something, but what?! It can get rather frustrating, but there is something about this game which makes it impossible to rage quit...it's the one challenge you just cannot give up on. Thank goodness for unlimited lives and a checkpoint system, right?
There isn't much else to say about this game...with the lack of story and cinematics, as I have said before, the only thing that you can really do is to just keep pushing forward. Puzzle after puzzle, you just keep going until at last you get to the end. I can't really say that there are any huge moments in LIMBO...throughout the game, there is only one real moment which can be considered a BOSS-battle, and that is your bout with a giant spider in the very beginning of the game. After that, nothing else ever chases you (except for some humans that try to kill you), everything else is just overcoming obstacles like hitting the right switches, avoiding electric rails, and fighting against gravity itself.
The little boy you control is pretty limited as a character. He cannot jump very high, cannot swim (he can only wade in water up to his waist and then will drown). He cannot fall from high distances, but can climb ropes like nobody's business. He can swing on vines and chains, and other than that, he is completely dependant on the tools he can use in his own surroundings.
You have to avoid bear-traps that blend in with the grass, rolling boulders, crumbling columns, wooden spikes, hunters, giant spiders, maggots that dig into your brain only allowing you to move in one direction...gears and saws, electrcity and gravity machines that will fling you into nothingness. But that's the gist of it...you press forwards, you break through that final puzzle (literally), and at last, you find your sister.
So...lets get to review part, shall we?
The Pros:
1. Great visuals. It's weird how something that is just black, white, and grey can really set the mood. I don't know hot explain t, but it all just fits. The fact that you are nothing more than a shadow of a person and everything is just layered the way it is...just makes for the perfect atmosphere. Another great thing is that things you do in the foreground sometimes effect what is in the background which gives the game more depth and feeling, like you are not just playing on a scrolling screen. It makes it feel alive and not so plain.
2. Ambience: There is no music (not really), and the slight sounds of bird, water, or the crackles of electrcity really put you into character and remind you that you are a little boy in a dark and scary world where EVERYTHING is trying to kill you.
3. Barely any gamer skills are needed. You just need to know how to move, jump, and drag things. that's it. This means the game can be enjoyed by anyone that liked solving puzzles (who really like to use their brain).
4. The puzzles are amazing. As I said above, they range from easy to extremely difficult, but they do not gradually change. One easy puzzle will leade to a really hard one, which will lead to three more easy ones, a hard one, and then one that seems near impossible. This makes the game really fun to play because you never know what to expect from the next challenge. While it might not have a multiplayer setting, because the puzzles can be so hard, this game is still fun to play with a friend (in this case I played with my g/f) and it's really fun to pass the laptop back and forth to see who can figure out what.
5. Trial and Death...I like this system. You may have unlimited lives, but that does not mean that you can breeze through this game. Some easier puzzles allow you to tinker around and try different ways of going about solving it...but with other puzzles, one wrong calculation is your death. This means, you really have to think of things ahead of time.
6. The story leaves a lot up to the imagination...with no cinematics and no voice-acting, and etc...you get to jump right in the game and really try and figure out what is going on for yourself. You can become whatever type of person you want to be in whatever place on whatveer quest. It's all up to how you want to see it. While a storyline is kinda implied online, you don't have to go with it.
7. Scares and Laughs? I can't decide if the game is really eerie or if it is really funny. While playing it with my g/f, she got freaked out by the spider and would always throw the laptop at me if it came around. But, even when we died due to a puzzle, the deaths were gory but it just made us chuckle when we would fuck up for whatever reason. So really, the game never got boring.
The CONs:
It's becoming more and more rare these days, but here we have another game in which I really cannot find anything wrong with it. The only things I could say that sucked about the game was indeed the lack of story...while I said up above that it was not a problem, while it really isn't, I am the type that likes to know what I am working for. Even my g/f agreed that the game could have had more story and a better ending than what it did. The game just did not feel 'final'. It was still really amazing...but left you feeling like there was something more.
The only other complaint I might have about the game were some of the harder puzzles. I will admit, my girl and I had to cheat a couple of times because we got stuck. Granted, it was only for a few puzzles...but still, we were kinda angry that the puzzles were so hard that it had to come to that.


In Conclusion:
So...this game gets a 10/10.
Visuals are amazing, setting is amazing, graphics, gameplay, etc...everything is just amazing! It's one of those games that draws you in and it wont let you go. You struggle through it, get angry at it, laugh, cry, get scared, but nothing makes you want to quit. I like that ina  game. I like a challenge, I like a span of emotions from happy to sad. But I hate it when I game is too hard and too frustrating that it makes you want to quit. LIMBO doesn't do that, which is why it gets the highest score I can give it.

My advice? The game is short and anymore you can get a used copy pretty cheap. It barly takes up any space on a PC (I was playing it on my HP laptop and it did just fine), so yeah...go out, buy it, and enjoy it. You wont regret the purchase. Well, that's all I have for today.
But, until the next one then, have a good day everyone!
I said this was a game review, but really...I don't know whether or not I will do this game in the same way that I have reviewed other games, so we will just roll with it, and really see how all of this goes. So, last week I decided to finally finish up Pokemon White 2 and get onto the post-game in preparation of getting my Y-Version here in the next month or so.

So, let me tell you a little about my relationships with the 5th generation of Pokemon. I have owned Pokemon since it was released in the US, and have never stopped playing it. I kinda skipped out on the 4th Gen. because I researched the games prior to their release, and (mixed along with the fact that my sister had a DS and I did not) I pretty much ruined the game for myself. I thought the Pokemon looked stupid, though the legendaries looked stupid, and I guess I just went through that phase where I thought that Gen.3 were the last set of decent Pokemon games, and I gave up on the series for awhile.
But then, there was a friend that then got me HeartGold for my birthday. He knew that Gold Version had always been my favorite game, so he surprised me with it as he was coming over to my party. Well, needless to say, this got me back into the swing of Pokemon, I picked up a Platinum Version from another friend (which I would not play until later), and when they announced the 5th Gen games, I decided to give this thing another shot. The game was going to be released around my birthday of that year in particular, and so, I convinced my friend that we should reserve them. No looking up anything on the game, no watching trailers, or etc...we wanted to go into these games like we used to : Blindly and without judgement.
So, I reserved White Version, got it when it came out, beat it a month later, decided the post-game was pretty dull, and then I did not touch it again. Now, I cannot remember when it was but, one day as I was working at my newest job, I was browsing through the shelves of inventory when I found a Pokemon-game-section. I saw White Version, but then I saw the #2 on the cover. I wa sshocked. When did they come out with a second game? Needless to say, I saw the cover, and was not really impressed...but then, I read on about the nenory linka nd etc. I was hooked...so, for Christmas that year, I had Pokemon White 2 in my stocking (courtesy of my awesome Mother).
Anyways...long story short, the game did not sink in as well with me as the first game did. I put it down several times. That's when I went back to the original White Version. Originally my problem with the game was that the post-game was too hard. It had taken everything in my power to defeat the E4 and Ghetsis all at the same time (even with the Legendary Pokemon and my Victini), and, on top of that, now all new areas had opened up (as well as some old ones), but all the Pokemon and Trainers had just gotten harder. I was under-leveled...and this had really put a damper on the experience. Anyways, I soon discovered DreamWorld (a few months before they shut it down). I had never had the chance to use it in America, and now that I was using it, it got me in the mood to complete the Pokedex. Thus I started playing White Version more often, and then, I discovered new things about post-game that I had missed.
Battles with Cheren, Cynthia, and Morimodo...Pokemon I had never caught before, diving in the Abyssal Ruins. There were so many things I failed to notice. That's when I decided I should give White 2 another try.
--------------------------

The Pros:
1.) White 2 is already a decent game, and I like that it was not a "Grey Version", but rather, tied in directly to the story from the last game and was more like a "sequel" rather than a mere expansion.
2.) Speaking of expansions, W2 offers a larger map with towns you have never visited before. Old towns have been revamped with new features, and there are new characters to grow and love.
3.) You have both familiar and new faces, even some Gym Leaders and E4 have changed, so, there is no real way to prepare for the game.
4.) Memory Link: if basic nostalgia isn't enough, this game has the Memory Link feature, where you can share data from your original White or Black Version to tie into the new storyline. My original character was named Mia, and so, whenever the flashbacks occur, and even when there is special dialogue...characters that we know from the first game will reference back to Mia and her deeds (by name) and it really is amazing!
5.) You can catch N's Pokemon? Not really sure why this is a pro...but, I really liked the idea that trainers released their Pokemon and you can therefore catch Pokemon with different Trainer IDs.
6.) Hidden Grotos: I like secrets within the game, and, I like how you can visit the hidden grottos to get items and Pokemon. The hidden grottos aso replensih, so you can go back often and see what you find.
7.) Join Avenue: The join avenue may seem stupid to some...but I thought it was an awesome addition to the game. I like how you can set up shops that will help you, like groomers that will make Pokemon more friendly or training areas where you pay to make your Pokemon strong. Mix that in with people that sell berries, raffles, and deli's and it's really nice and convenient for those who need certain items on their adventures and want to stay ahead of the game.
8.) Medal Rally: Completionists and Achievement Whores will realy love this one. You get medals for completeing certain things within the game. From looking into people's trashcans, talking, trading, even walking and saving your game, it's really just something that is fun for when you really want to go and do something random.
9.) Dreamworld? I want to say that this is a pro...how you can use the Entralink to do small quests and get power-ups in your game (for this game they allow you to do quests without having to step into a friend's world), but, Nintendo shut both of those things down. I list them because they were still good at the time, and an awesome addition to the game.
10.) More beautiful and animated Gyms: The gyms are so much better than they were in the first game. They are more interactive and have new themes. Gym Leaders have changed, and there are new puzzles to solve. It's great because even if you end up fighting someone from the last game, you have to make it past their new Gym, and they usually have a new team. It just makes everything feel fresh.
11.) A new legendary: Okay, so Kyurem is not a new Legendary...not really. It can be caught in the first game after you have beaten the E4, but in this game, he gets combined with Reshiram to make Kyurem-W and he looks really badass and is very OP (over-powered).
12.) New Forms! I technically do not care for forms, but I do know that some people get excited about them. The Legedary trio get new forms in this game...which leads me to this next part:
13.) Pokemon Dream Radar! Alright...so it's not part of the game and you have to have a 3DS to use this feature, but, if you do have a 3DS and download this game, then, you are in for a treat! Dream Radar is like face-raiders (only using Pokemon). It allows you to catch regular Pokemon, Legendaries, and even get really good items to transfer back to your Pokemon game. Very helpful if you are trying to complete the Pokedex. Some examples of Pokemon you can get are this gen's legendary trio in Therian form...you can get Dialga, Palkia, Giratina, Ho-oh, and Lugia as well as Spiritomb, Riolu, and other hard-to-find Pokemon.
14.) As far as Legendary Pokemon go...you can even find Cresselia in Pokemon W2 (a Legendary from D, P, and PL --- WTF?!). I caught mine with one Quick Ball. Lucky, eh?
15.) Pokemon Transfer: You still have the transfer ability with this game for those that want to complete the Pokedex.
16.) All your favorite features from the first game are still in this one: Pokemon Musicals, feeling check, surveys, as well as the battle subway, and even the post-game battles with people you know (Bianca, Horace, and etc).
17.) The game does not even finished after you beat the E4, but finishes up in the post-game...so technically, guess you can say that the whole game is an adventure and there really is no Post-game at all? (for some this might be a pro).
18.) A more corrupted and deeper storyline than the first game. I thought the bad guys were evil in the first game, but, they get even crazier in the second game which made me really enjoy the plot.
19.) Pokestar Studios: More mini-games...but hey, you can act in movies, and then watch them afterwards! I always thought of this as more of  a strategy-puzzle game within this particular game, and seeing how lame the movies were offered a laugh and made the game really fun!

--------------------------

I'm sure that I could list off a lot more, as this is just tip of the iceburg, but really...lets look into the things that I did not enjoy about the game so much.
---------------------------

Cons:
1.) The game seemed a little bit more difficult than the first one. Granted, I was more prepared for it, but, encountering that first Dragon Gym, it was really, really hard. Sometimes a challenege that is too difficult can really take people away from the game.
2.) No access to the Daycare until post-game

One thing i really liked about the Pokemon games was that you could always go to the Daycare when you were in a pickle, and sure, it cost money...but you can still use the place for leveling. The game was a tease at this, giving you the chance to catch a Ditto really early in the game, and then not having a Daycare to put him in. Whereas I had dreams of breeding Pokemon and leveling them until I had my perfect team, I had to wait until Post-game, and this did not please me at all.
3.) The E4 lacked...substance. Think back to the first game...you are battling through the E4 when all of a sudden, Team Plasma's Castle rises out of the E4, and then, after you face the Champion, you battle N, and then you battle Ghetsis...you're barely holding on by the skin of your teeth as you catch Zekrom, use him to battle N, and etc etc. It's a very stressful, heart-pounding moment...but in the end, it is a truly epic experience. But, in this game, you beat the E4, then you get hints of where Team Plasma might be, but ultimately, you have to find them, and you don't even get your Kyurem until post-game, which is kinda weird for a Pokemon game (not getting the mascot until post-game). Idk, but this bothered me.
4.) No more DreamWorld. DW was awesome while it was around, and it allowed people to get so many good items and Pokemon that they could not get otherwise. Granted, it had it's flaws, but it was really useful, and I enjoyed it very much. But, without DreamWorld and Entralink...well, the game is just missing something.
5.) No more Wifi services come May 4th--- yup, this will be another Blog altogether, but, after May 4th, 2014 ... the wifi services for anything under X & Y will cease to function. No more global battling or trading. Again, taking something away from the game.
6.) Not as fun as the original...sure it had new and exciting elements, but, it just did not hold the awe-factor that the first one did because we had seen most of this stuff before. Minus some new Gyms that had new puzzles and new graphics, again, it just seemed like there was nothing too interesting that could not be topped by something int he first game.
7.) Dream Radar did not come with the game...I feel disappointed with this, same as I hate time limits for getting event Pokemon. People have lives, and, while the 3DS is great, Nintendo just keeps trying to find new ways to force people to buy their new systems. It's all about marketing, and anymore, it barely seems to be about the fans (IMO). I think that, if Dream Radar only works with W2, it should have already come asomething in the game. There must ahve been a way for them to get it to work on the Ds, because Dream Radar does not even use the 3D screen when you play it 

Very furstrating indeed.
------------------------------

Overall, the good things outweight the bad things, and thus, this game gets a 9/10 from me.
It has ton of gameplay and ots of new things to explore. After you unlock the National Dex, you will run across a whole bunch of older Pokemon that did not appear before that time, you can build your Dream team, beat the E4 again, and again, and enjoy the wifi services while they last. Honestly, if you did not own this game before DW and the wifi goes out...then you are missing out on a huge portion of what the game is and could be. I'm not saying you should NOT get it...but I am saying that the experience won't be as good as the rest of us had it
Console: Nintendo 3DS

Beat: 11.27.2013
Play Time: 4hrs 23min
Rating: 10/10
                I have always been a huge fan of Mario games…in fact, for 90's children, I believe that it is just in our blood, part of our DNA. Still, I have been disappointed with all these new Mario games that keep pouring out because, while some are really good…others are nearly unbearable. At some point, the Mario games started becoming all the same to me. Don't get me wrong…I still played them and enjoyed parts of them, but I just did not have the same feelings towards these newer games as I did the old ones.
Then I played 3D Land.
                I was being overly critical of this game after "New Super Mario Bros.2" broke my heart by being so boring. So, the fact that this game still made a 10/10 really means something. To me, this game combined all the elements of different Mario games that I really liked. It had a unique storyline like that of the original Mario games, the world selection and just the 3D worlds in general reminded me of Mario 64, and the way that you were playing the game at different and odd angles all the time reminded me of Mario Galaxy. In fact, there were only a few things I did NOT like about this game, and even then I had to dig deep for those. But, let's start with the good things, shall we?
The Pros:
1.        The game followed the same storyline of saving the Princess, without really following the same, typical storyline. Not only are you trying to rescue Princess Peach, but Bowser has stolen all of the Tanooki Leaves in the Kingdom, and he has been using them to upgrade his minions in order to stop Mario.
2.        Super Tanooki Bowser fakes and other never-before-seen enemies like the ink-spitting piranha plants, little flying mushroom-shell dudes (I can't even begin to explain what they look like to you but they are NOT Goombas), and fire-sneezing mini-dragons :3
3.       Again, you have the remix of all the classic tunes from the old Mario games, with some new music added in.
4.        This game does not recycle levels and actually has unique level builds such as the final castle where you ride a Dry-Bones rollercoaster through lava obstacles, a cookie-land in tribute to Yoshi's Cookie, and even a pixel world dedicated to the old-school Mario (which is one of my favorite levels)! Worlds are not themed (generally) so neither are the levels (ie; you can have a water level and then a sky level  followed by a desert level and a Boo House).
5.        Awesome new angles during gameplay allow you to look down as you fall from a higher world level to a lower world level and etc. etc. This way you really get the full 3D experience and it almost has a feel like Mario Galaxy in this way.
6.        New Mystery Box features that allow you to get a mega coin if you complete it in the allotted time (this will come in handy later).
7.        Mystery Boxes refresh every day for the chance at another Elite Coin (sometimes).
8.        Street Pass capabilities that give you bonuses in-game (your friends can leave you random items like fire flowers and Tanooki leaf power-ups).
9.        Eight worlds to play through with several Special Worlds (that are unlocked after you beat the game) to make for extra-long gameplay and lots of replayability.
10.    New Propeller Box and Boomerang suits to add to the mix of Mario powers.
11.    An auto-save feature that saves your game after every completed level (I loved this).
12.    The item-storage feature (where, if you get another power-up item, you set aside the one you were wearing beforehand for later) is back and still just as useful.
13.    Collectible clocks in each level that give you more time for that particular level (really helpful when you're trying to get Mega Coins).
14.    This game is actually more challenging than most Mario games which made it frustrating at times, but ultimately still very enjoyable---it made you feel accomplished when you finally beat something that you were having trouble with, and, it never got boring for being too easy.
I think the last thing that made this game so amazing for me was the final boss battle.
**Warning Spoilers Ahead**
15. So you have finally made it to the eighth world and unlocked the final castle. You get to the end and realize that this Bowser you are facing is the real one because he does not have a Tanooki tail. Right away you can tell he is the real thing because he is much quicker than the other Bowser's before him AND he has a quake power which damages you really heavily when he hits the ground after a jump.
                Still, this Bowser was pretty easy. You run past him, hit the button, he sinks in the lava, and you're finished, right?  WRONG!!! After you get to the Princess, you realize that she is a fake and that Bowser has re-appeared with the real one, flying off with her. Next thing you know, you are watching him run across the level board into a bigger and more scary castle than the one you entered before. You have to beat one more regular level before you make it to the 'real' final castle which costs 100 Mega Coins to unlock. The castle itself is fun is rather easy. You make it to the top of the Castle where Peach is waiting for you and tied to a flag pole. But, right as you go to save her, Bowser comes crashing down on the floor.
The Bastard is too heavy and the whole floor gives way, and you plummet to the levels below. Now you really have to be smart and pay attention. In the battle before you had to just do the same thing you have done the last billion times in the game…press the damn button. Now you have to run through this gauntlet of challenges, running over rocks that break and give way while he is shooting fire at you, throwing spike balls at you, hurling barrels at you (DK reference), they make you walk across a tight-rope and avoid flying Goombas, and all that. Finally you have hit the button and sent him into the lava…but again, it is not over. As you are finally going up the stairs to reach the Princess, Bowser comes back and he is freakin' pissed. Now his fire is enhanced with magic and glows a purple-color. The camera angle has changed and you are constantly trying to dodge him while getting ahead of him---and still walking on broken stones which are all staggered out and fall away almost faster than you can jump off of them. When you do reach the top, Bowser starts chasing you and you have to hurdle jump over blocks to reach the final button where Bowser finally falls into the lava below and before he hits the molten liquid he gets bashed in the head with more falling stone from before.
                You have reached the tower and have finally saved the Princess. Then, that is the end really…other than the final cinematic and the credits, you are finished with the game (and it gives way to a sequel some time in the future). Unless you want to play the Special Worlds or try for 100% completion…there really isn't much left to do.
With that said, we can now go to the cons:
The Cons:
1.        You could not play as Luigi like you could in other versions, and I do not believe it even gives you an option for multi-player.
2.        Still no Yoshi….
3.        The camera angles cannot be changed in the game. I understand that this is part of the challenge of the game itself, but this made some levels almost unbearably difficult.
4.        This is a love/hate thing when it comes to this game, but, Mega Coins are needed to advance in the game. Normally I would just breeze past them and pay them no mind, but, if you don't collect them you cannot unlock extra levels (there is at least one per world), unlock a pirate ship (which takes 45 I think), unlock the semi-final castle (which takes 90 of them), or unlock the FINAL castle (which takes 100). This made the game extra challenging as you had to go back through all previous worlds and their levels trying to get to that 100% completion rate, just so that you could finish the campaign.
-

----


So there you have it. This game only took me a little over four hours to beat, but, when you stop to consider that a Mario level is usually only 4 minutes long, this actually makes for a really long time. The final Castle alone took me 12 tries because Bowser was such a pain in the ass…and in the end my palms were sweating and my heart was beating out of my chest. But, this is a good thing. I think that in games, one should be able to feel accomplished when they beat the main campaign, that is what a good game should spur in you…and this game did it for me.
Still, I am just an opinion and it's up to you to really play the game for yourself and decide whether what I said is accurate or not. Either way, you know the drill, leave me a comment letting me know whether or not you have played this game. If you HAVE played it before, let me know whether or not you beat it and what you thought of it.
                I still have not decided what I will play next as my "off to work" game, but I will probably go back to Scribblenauts Unlimited. Look forward to new blogs coming soon…maybe some new reviews of some apps or even some other games. Anyways, that's all I have for now, and I hope to see you in the next one.
Have a nice day, everyone!
Beat: 02.17.2014
Favorite Weapon: Machine Gun
Favorite Vigor: Posession

Rating: 9/10
It has been awhile since I have done a game review, but, seeings as I just finished the last installment of the Bioshock Series (minus the DLC), I must say that this could not have come soon enough. I do apologize for my lack of activity on here. I have been super busy at work and planning my vacation, but, hopefully I can get back in the groove of things and start getting up more content for you guys.
Sooooooo...where on earth do I start this review? I will go ahead and say that I LOVE the Bioshock Series!!! Every game has had me on the egde of ym chair, curious as to what is going on, and my mind is always blown as the pieces of the story slowly come together with all the shocking little twists. Granted, Bioshock 2 did not get the best rating, but, I was still fond of it all the same.
Still, Bioshock Infinite is something that is so familiar and yet so different at the same time. There is nothing I can say here which would not show up down below in the pros and cons...so I guess, all that is left to do is to start naming off the things I adored and despised about "Bioshock Infinite"!!!
***WARNING: Possible Spoilers Below!!***
The PROs:
A new and unique story:
---Whereas the first 2 Bioshock games took us through Rapture in the 1960's (a city that was under the ocean), Bioshock Infinite takes place in the floating city of Columbia in 1912 // 50 years before the original Bioshock games ever happened! Greater still is that you get a brand new protagonist and antagonist, a brand-new mission with nothing that seems even relatively familiar. "Bring us the girl and wipe away the debt!" is all your character can think about as he goes to Columbia in order to steal a girl out of the Tower called 'Monument Island'. It covers things such as Science, Religion, and even race.


A character that actually speaks!
---Booker DeWitt speaks alright, and he is blunt about what is on his mind. Almost heartless and nonchalant...his bluntness gets him into a lot of trouble and yet he gets the job done and won't lie to anyone // friend or foe. Still, this is the first character that we get to have that deeper connection with, that we get to hear speak and really understand them (unlike Jack and Alpha). We may not like Booker at times, but, in the end, we sympathie with him.


Lots of sarcastic Humor:
---I wish I could go into more detail about all the humor in this game. But really, there are just too many instances to list. Two characters you should know about are the Lutece twins. They spawn at the most random of times and always have something very funny and witty to say, Most the time they are helping you out, and other times they are there to confuse you. Another instance of humor is near the end of the game when Eliabeth ends up taking Booker through Rapture and he says: "A city under the sea? Yeah...whatever."


Longer gameplay:
---This is just my personal opinion, but, Bioshock Infinite seemed to take a lot more time to beat than the previous 2 games. There was just so much running back and forth to do all the different quests, and enemies were larger in number. So, to me, the gameplay in this game is a lot longer, and you have to plan on playing until you reach an autosave point (more on that down below).


New fighting elements:
---Bioshock Infinite took fighting to the next level with all the new elements. You have your melee weapon which is the Skyhook (kind of like Alpha's drill). Only, the skyhook never runs out of ammo, and it allows you to zip-line across the city and attack people from above. Another cool thing about the fighting style in this game is that you have critical hits that cause death cinematics for your enemies (much like Skyrim), and it is so much fun to watch the blood spray everywhere!


Character Upgrades:
---We finally have charactr upgrades. While you cannot mess with your characters looks, you can play with Booker's stats. Infusion potions let you choose between upgrading your health, shield, or salts. These potions are hidden all over the world, and will really come in handy. Also, Booker can now wear gear. Only one piece of gear can be worn per section (you have your hat, shirt, pants, and boots), but they give you all sorts of cool abilities. From reenerating health after a critical kill, or waching people burst into flame after they have struck you, the fun just keeps going here
Gear is also hidden all over the world, and it allows you to mix and match so you can create you own battle style!


Lock-picking and hidden areas:
---I always love it when I can climb up to certain areas, or when I find rooms with all sorts of goodies for me to pick up. While you no longer have to worry about the hacking games like the last 2 Bioshocks, what you do have to worry about is having enough lockpicks for said-lock, and also, having Elizabeth with you (as she is the only one who can pick locks). I ended the game with 27 lockpicks.


Great scenery, beautiful music:
---a game can have a really good storyline and all, but, if it does not have the scenery and music to back that storyline up, then, I am not interested. From the skyline traveling, to the battle mechanics, to the heart-pounding music that came on when fighting huge mobs of people, and even the 'futuristic' songs that poured through random tears within that universe. I was hooked. I would even stand around just to watch a water fountain or hummingbird, it was all that beautiful!!!


Full of Mystery!
---It's all a mystery. From who you re as Booker, to your past, to who Elizabeth is , and why she is being held captive on Monument Island. Who is Comstock and how can he see into the future? Obviously, if you have beaten the game, then all of these questions have been answered already...but for those that haven't played it yet, you will be eternally surrounded in that mist of confusion.


Intense Cinematics:
---I remember that the previous games had some cinematics, but none were as crazy as Bioshock Infinite. Sometimes, there is so much going on via cinematics that you feel like you are watching an action movie. Then, when you finally have to move and play again, it takes a minute because you were just so focused on hat was going on with the story. It may sound silly, but cinematics (a lot of the time) really make the game and keep people involved.


Games within the game:
---You can play mini-games in Bioshock Infinite. I think it is only the carnival games at the beginning, but, either way, it's really fun.


Lots of ways to learn the history of Columbia:
---You have kinectoscopes to watch, Voxophones to listen to. Just like in the previous games, you are constantly finding things which give you insight into the lives of those that occupy the city.


Battle shield:
---What is there to say? You get hit, the shield goes down...eventually it cracks, then you hide until it recharges, and then go at it again. You take no real damage while your shield is up, and you will be relying on it a lot. It's like Halo


Lots of different guns to choose from:
---SO.MANY.GUNS!!!
Crank guns, shot gun, heater, repeater, RPG, Hail fire gun, Carbine, Pistol, Machine gun, hand-cannon, Sniper Rifle, and more!


Upgradeable weapons and vigors:
---The Sky Hook cannot be upgraded (unfortnately), but all of the weapons you find in the game can be upgraded for money, as can vigors. Naturally a weapon and vigor only has so many slots open for upgrades, so choose wisely!


Tons of different enemies:
---Not only do you fight The Founders of Columbia and the Columbian Police...you also fight renegades and rebels via the Vox Populi, you fight against soldiers holed up in the Hall of Heroes. You fight spirits and people with all different types of vigors. You fight gisnt machines such as the Patriots and the Handymen (which are hard as hell to kill). There are so many different people that you will have to face at once, it is insane.
Did I mention turrets? Guns, mosquitos, rocket launchers, and more. Woooooo!!!


Choices:
---As with any good game, this game allows you to make choices as to make you think you are influencing the events of the storyline.


A thrilling ending with a twist!
---The ending to this game just BLEW.MY.MIND.
To sit there and listen about the alternative universes...to sit there and see Elizabeth go through Rapture as she is explaining Bookers past to him, or one side of him. To find out that Elizabeth is Booker's daughter named Anna because he is Comstock all along! Whew!!! Crazy shit that just made my jaw drop. But it was so thrilling nonetheless!



Return to Rapture:
---We get to see the City just one last time in this series, and I hear that the DLC for this game has a whole game set there (it's called "Burial at Sea".


One last mystery at the end:
---After you figure out who Booker is, how he is Comstock, and how he kidnapped his own daughter; we now wake up to Booker, hearing a crib in the other room after he has awoken in this new reality, and he keeps asking "Anna?". But, before Booker looks in the crib, the screen cuts to black which leaves one final mystery unsolved: "What happens now?"
So, there are all the positicves for this game. Just looking at it, I can see that there are other things that I left out...but at the same time, I wanted to leave some things for you to discover on your own.

But, with all good things there are also bad things which generally go along with them. Granted this list is not nearly as long, and most of the stuff is juts nit-picky. Either way...lets take a look at all the negative things:

The CONs:
Controls are different from the previous games:
---Yup, they switched the controls. Y was no longer to jump, and pressing up on your D-pad only showed you where to head for your objective. No multiple ammos to choose from, nothing.


Lack of Intense Boss Battle:
---Do not get me wrong, there were boss battles in this game. While you never got to fight Songbird or the Prophet himself, there were still some people which could have been considered bosses. Lady Comstock was the hardest boss because she was raising the dead around her and taking little to no damage, and then the first handyman could have been considered a mini-boss. We never even got to fight Slate, so really, as far as this game goes, it needed more boss battles.


Semi-confusing storyline:
---This is more for ym partner than for me. I was able to keep up with things going on in Columbia, but, only just barely. There was just so much to take in and to understand that after awhile, your head really starts to hurt, and you still have a billion of unanswered questions.


DeWitt is a dick!
---It's like in Aidyn Chronicles. Only, rather than DeWitt being totally egotistical, he is just constantly depressing, droning, and ruining Elizabeth's fun. He is a liar, and on top of that, he is just heartless towards anybody and anything. It's weird, but, if it had been much worse to where I totally despised DeWitt, his attitude would have turns me off to the game.


You can only carry 2 firearms at a time:
---Only 2 guns at a time. Choose Wisely


You cannot stock health kits or salts:
---You find health kits every once in awhile for different percentages, and food is usually around for you to eat, but even with that, Health and Salts can become scarce. Against Lady Comstock, I ran out of everything because Eliabeth was not trowing me anything (because she will run around finding health, salts, and ammo)...but even with her helping me, towards the end, I always ran out and would then have to choose a newer gun.


Vigors are pretty lame:
---It was all te same stuff with a different name. Even the unique ones did barely anything to enemies, but, I will say that "Murder of Crows" is my favorite in this game by-far! That and Possession came in handy later on.


Leaving areas made it hard to go back and claim things you might have missed:
---Once you leave an area...chances are that you can never come back. My friend said that it reminded her of classsic games like platformers, and where you had to beat them all in one sitting.


No save element except for auto-save:
---Yup. Said it as plainly as can be. If you quit your game before autosave has kicked in, then ou have to start the chapter over via your last save. Stupid, I know.


Not sure how choices affected actual gameplay:
---There were only 2 major options in the game. One was choosing Elizabeth's necklace, and the other was deciding on whether to spare or kill Slate. Slate wanted to die a soldier's death, and if you sparred him, he called you a "Tin Soldier". I wanted to kill him out of honor. But, the g/f said no
Still, other than an achievement towards the end, my decision did not seem to have much impact on the rest of the game.


Not much replay ability:
---Because you have such a limited amount of choices to make, and those choices do not seem to affect gameplay, then the game replay ability seems really low in my opinion. Granted, you could always go back with a guide and try and get all the items, or maybe try out different gear this time around, but, it will still be the same story every time (unlike the first two Bioshock games).


A lot of unanswered questions:
---I don't like cliff-hangers, and this game has a gazillion of them.


Battles could sometimes get a little too crazy?
---This is just my opinion. I know by now I am just being nit-picky, but, there is a difference between a game being challenging and a game trying to be practically impossible. While fighting Lady Comstock, I lost all my ammo, had barely any health, and no salts. Elizabeth was not giving me anything, and somehow I managed to hang on to 1 HP, just long enough to kill the Siren which was the Lady and to then have Elizabeth finally throw me a health pack.
All-in-all, this game got a nine only because it was so much harder than Bioshock 2 and it did not give me all the things I like in action RPGs. I loved the voice acting, loved the cinematics, loved the mini-games, and liked how everthing looks, and love the storyline as well. But, I did not get to make choices. My choices did not influence the ending, did not seem to influence Elizabeth, and did not influence anything that I could tell! The game got too hard at times, and it was really hard to keep up with all the new developments they were constantly throwing at you.

Either way, feel free to leave a omment down below. Let me know if you have played this game, what you thought of it (personally) or anything else of relevence. I wont stay on here, so, that is all I have for now. Thanks for tuning into my game reviews, and until the next one:
Have a nice day everyone!!!
If you read the first page (the HOME page) of this website, then you should know that my favorite gaming genre of all time is RPG. I love role-playing games of all shapes and sizes, and I love them because you can really make them what you will. Final Fantasy, Zelda, The Elder Scrolls Games, coming all the way down to games like Bioshock and Guild Wars...I love them all because they allows your imagination to soar!
Making choices, ground-breaking and breath-taking storylines, complex characters that you grown to love and/or hate...
THIS GAME HAS NONE OF THAT!!!
Seriously though...as per this new N64 project that I started, I am downloading old games that I have never seen before; things I have never played before and I become curious about. Having clicked on this game and seen that it was one of the few RPGs that was ever released for the N64, I was all for trying it out. The only 2 commenters on that page said that they liked the game (I later realized the one was being very sarcastic), so I figured that this would be an awesome experience...
Nope, nope, nope, and more nope!!!
55 minutes I suffered this game, and it only took me about 10 minutes to realize that I never wanted to pick it up again. I thought that I might have found a hidden gem...and this game was hidden, but it's one of those things you put back and back away slowly...you don't take it with you! I mean, it's an RPG...that means that this should be something that is really hard to fuck up, but, somehow, this comany managed to do it.
So, allow me to give you some insight on how this game works...
The game starts with a cook exiting the throne room after the King has given him orders to find your character. All the while that the cook is mumbling to himself, you are seeing a flashback of what you had been doing the previous day...a sword fight, using magic spells, and then running out of the castle.
Next thing you know, your Master (you are a Squire and he is a knight) comes up to the cook and also asks your whereabouts. Supposedly you placed an enchantment on his blade which has destroyed the sword. He then starts to complain about all the swords you have messed up. Then the cooks asks a mage where you went, and she starts complaining about all the spellbooks you have stolen...to make matters worse, you finally find out that your character has gone into the woods to rescue a farmer who went missing, all alone, and there are a lot of monsters out and about.
So your first impression of your character is that everyone hates you. You do nothing but cause trouble, you're an inconvenience to everyone except yourself, and you're stupid...really, really stupid. But it gets worse.
After the cinematic ends (which takes fucking forever), you can finally play. Already this game has messed up. You wanna know how?
In an RPG...the first thing that usually happens is you get a back-story...something to set the mood. In Zelda Ocarina of Time, this mood was set by telling you about the story of the boy with no fairy, and leading into Link's Nightmare...followed by the Great Deku Tree speaking of Chaos that is spreading over Hyrule. In Guild Wars, they talk about how this is the last day that dawns on the Kingdom of Ascalon...tells you about the current war with the Charr, and how the King needs more warriors to stand up and fight.
But here in this game, you don't even know where you are from, what the Kingdom is called (you later learn that it is Gwernia)...you have no sense of who you are, why the farmer is so important to you, or anything.
There seems to be no threat of an evil...there is nothing.

Plus...the HUD is terrible. You get a compass, but no map (on the right), then on the left, there is a meter which displays the time of day and when it will become night-time. I guess one prop I have to give this game is that it switches from night to day and has its own weather patterns, but still...there is just too much wrong with this game to even make one thing sound enjoyable.
So, on you go on this solo quest...you talk with some Gnomes (which are referred to as Mirari) and they kind of guide you. You see a spirit in the woods of a woman though you never figure out who it is or what it is. You finally find out that the Farmer has been killed as you are ambushed by 3 Goblins...a battle takes place, and then you get shot with a Poison Arrow.
Moving along, you awaken in a Healer's Hut...her name is Orianna. She says that she healed your wound, but could not cure the poison that flows through you. Needless to say you get dizzy, have a vision of some evil spider/goblin lady and three of her minions, you shrug it off as a dream, then head back to the Castle to consult their healers. Making it back to the Castle, your Master tells you to explain what happened to you in the woods, and at first, you refuse to tell him by saying,"I don't feel like talking about it."
HELLOOOOOOOO numb-nuts!!!! You have been fucking poisoned!!! You are DYING! Don't you think that's a little important?! You're only hope is to have the King's Healers try and fix you, and you won't tell your Master this?! WHY?!?
This dude...if he were real, I would just let him die. At this point we should be loving our character and sympathizing with him in his plights...but all I see is an arrogant brat who shirks his duties in being a Squire, doesn't listen to his Master, and thinks he is all that when he got taken out by one tiny little arrow. Seriously...come on!
So...you finally tell your Master all that happens, and he tells you to go talk to all these different people. These people are supposedly your friends or people that you know...but how else would you know that had he not told you because there really was no introduction to your character?!
If they were going to do this right...they would have started you off by playing this Squire (whose default name is Alarona), and getting into his thoughts. By reading journals or something, you could find out that he does not like his Master and thinks the man is biased against Orphans...you could have read about his friendship with the Prince, or Brenna the thief.
Maybe you could have learned that he is studying magic and likes to play in the woods rather than train. Maybe the first part of the game could have been you dueling the Prince manually rather than watching it, it could have been YOU actually casting a spell, and then they would have had YOU overhearing a conversation about Kendall the Farmer having gone missing, and then YOU could have taken off into the woods.
But no...they don't have YOU do anything...you only watch small bits and pieces about what I just said, and when told to talk to the people in the Castle...well, good luck finding them! That place is a maze, and it does not show you where you are placed in the map. It only shows you all the doors, and not all of the doors have signs. It was merely by chance that I found the throne room and later, the training room...still, the only thing that impressed me here is that it was raining outside, and asides from the large blobs of water, I saw lightning flash...once.
Anyways...when you meet the King, he tells you that his Healers cannot help you, and he tells you that he will give you two companions to go with you to Emmeron so you can see if they can heal you. On top of that he goes on about how he always had high hopes of you becoming a Knight with his son, and, if you come back from this ordeal alive...he will Knight you.
ERM...WUT?
Your master sits there and screams,"You are being too generous your majesty!!!" and I'm on the other side of the screen, screaming in my mind,"He doesn't deserve to be knighted!!!"
I mean, I feel like I should be torn up over the fact that my character is dying and is so young...but I really don't care. I should have been excited for my character to have that opportunity to be Knighted...but I really don't think he has earned it. Your Master is a Knight, is blind in one eye, and has battle scars. The Knights listed on the roll have been in Wars of old, and you...you are just getting poison sucked out of you and coming right back.
At one point I thought to myself,"I will go talk to people. Then I can learn more about this place and maybe get more into the game."
So, I went to speak with a villager. My character asked him,"So, can you tell me about the Village?"
And the man's reply was,"Uh...I live there."
No.Fucking.Joke.
Who wrote this script?! I want to go back in time JUST so I can fire them myself!
I could go on-and-on about what I hated about this game...from the crappy controls (the way the character moved), to the strange battle system and lack of a tutorial. Kids playing this game would not get very far unless they had a guide, and even then they would probably get confused. All I know is that this game ranks up in my list of worst games and is only surpassed by "The Final Fantasy Legend"...yeah...IT'S THAT BAD!!!
Anyways, the video is up on YouTube and can be watched here in the N64 Playlist section.
But until the next one...have a nice day, everyone!

Date Beaten: January 27th, 2014
Favorite Weapon: Rivet Gun

Favorite Plasmid: Incinerate
Review Score: 9/10
The review for bioshock was not too long ago (only about 2 weeks), and I gave that game A LOT of hype and a perfect score...so naturally, Bioshock 2 had a lot to live up to. I was really looking forward to the sequel because the first game had been so good. Most sequels that I have ever played have almost always been better than the original games by far, but this one...this one really shocked me.
I was debating whether or not this game even truly deserved a NINE, and it made me sad on the inside because the first game was just so awe-inspiring, and the ending had me touched and so choked-up. Everything about the first one seemed so perfect and yet they left it so open that a sequel could do anything with this amazing world which was Rapture.
Now, I'm not saying that the game was all-bad...because really, it was still a good game that I enjoyed playing---but, before I go into a bigger rant, lets just get down to the main points and details, shall we?
**WARNING: Spoilers!!!**
-----

The Pros:
The game "filled in the gaps":
---I can't say that it was done as much as it should have been , but, the setting of this game does fill in a few gaps. The game basically tells you about a time (via the recordings/diaries) when Andrew ryan is still alive, and is trying to be overthrown by a Parapsychologist named "Sofia Lamb". She brings with her this religious view of the perfect being, and has started to recruit Splicers under her which she calls the "Rapture Family".
Anyways, during this time, she has a daughter who is sold off to an Orphanage (her mother is unawares as to what has happened) by one of Ryan's men, and the daughter is then made into a Little Sister and bound to one of the first series of Big Daddies (known as the Alpha Series) called Subject Delta.  Sofia later takes her daughter back, makes Delta shoot himself in the head, and the game starts there with Delta's reawakening which is after Ryan and Fontaine have been killed (2 years after), and 8 years after the rising of Atlas.

So you get a pretty good range of all the things that have changed in Rapture. You can see that most of the City has been reclaimed by the sea (moreso than in the first game), and everything is in worse shape. So while there are still a lot of unanswered questions, this is at least a good gap-filler in terms of a timeline.


A brand-new storyline with familiar settings:
---As mentioned before, you are playing as a Big Daddy known as "Subject Delta" which is on the mission to find his Little sister which has been calling out to him for reasons concerning her Mother. You go along thinking for awhile that this girl might actually be your daughter (she is not), and you are trying to stop a religious cult from inject all of their ADAM into one girl (the girl you are looking for), in order to dispose of individuality, and create a Saint made from all-people's.
A side mission in this is saving Little sisters who are girls that were stolen from the surface in order to gather ADAM.


Return of loveable characters:
---Tenenbaum makes a brief return in this game and she helps you get started. But, she then takes off with some of the Little sisters she has rescued, and she leaves for the surface, never to be heard from again.


Brand-new weapons:
---You are playing with a Big Daddy now...which means you can use tools that you never could use before. The big drill is yours to command, as is the Rivet Gun, Spear Gun, Hacking Tool (which can also launch mini-turrets), as well as familiar weapons like the machine gun, shotgun, grenade launcher, and etc.


A new (and easier) hacking system:
---Rather than messing arouns with those pipe games that really freaked me out, the new hacking system is a lot more simple and it's all about stopping the arrow on the green zones. While at times this can be very hard and frustrating, at the same time, it's not as stressful, and you needed a lot less hacking buffs to make hacking possible.
Plus, you still got your automatic hack tools which made things nice.


Playing Underwater:
---As a Big Daddy you can go out and explore the ocean floor! You can collect sea-slugs to gather ADAM directly, and the change in scenery is nice. There are no enemies, and therefore you can use no weapons or Plasmids, but it's something different, and I thought that it added a nice element to the game.


More 'weapon' upgrade stations!
---Maybe it was just me, but it seemed like there were more upgrade stations in this game AND it gave you new weapon upgrades that were not available in the first game.


New enemies:
---Splicer Brutes, Spider Splicers with new looks, and Big Sisters to boot. Not only that, but you can fight other Alpha-Series Big Daddies, and Rumblers too!


Power attacks!
---Now your melee weapon (drill) can get special abilities like the Drill Rush and etc.


Playing as a Little Sister:
---During the last portion of the game, you are given a chance to see the world of Rapture through a Little Sister's eyes. This is such a cool experience because Splicers look like normal people, dead bodies have angel wings and a halo drawn around them, and all of Rapture is bathed in a golden light, and the children do not see the rust and decay that has set in. It puts a whole new meaning to "seeing the world through the eyes of a child".


Multiple Endings and etc. based on in-game choices.
---Just like with the first game, your choices in this game affect you're ending. Not only does it affect your ending, but it affects other aspects of the game too. By saving Gracie's life, she helps you because she realizes that you are not a monster. By saving her life and rescuing Little Sisters, you teach Eleanor to have mercy on those around her, and Sofia Lamb is then allowed to live rather than die. Then, when your character passes away, she absorbs his ADAM so he is with her always (creepy).
The opposite then happens if you make the Bad Choices. Grace would die and it would be harder to leave her area because of all the Splicers (she gives you 2 really good turrets if you let her live), also, Eleanor would let Lamb die, but would not absorb your ADAM, merely grieve your passing. Odd, right?

The Cons:
New ADAM gathering system:
---Instead of just rescuing Little Sisters to gain ADAM, now you have to kill their Big Daddies, ADOPT the girls to ride on your shoulders, find a body full of ADAM, then let the little girls gather while enemies swarm you trying to get to the little girl. She gathers SO SLOW until you later get Gene Tonics to make her go faster. Then, you barely get any ADAM. Not to mention that after you rescue all the Little sisters in a level (which means 2 gatherings for each Little Sister), then you have to fight a BIG SISTER...but we will cover that in a minute.
Also, the game also forces you to gather by spamming your screen about gathering to get more ADAM all the time if you have not rescued or harvested anyone.


Big Sisters:
---Big Sisters are Little Sisters that have grown up...and they are OP, Over-Powered to the MAX! The first time you fight one, you're only supposed to get it down to half HP, but, we only managed to do that AFTER using 5 Health Kits...and those things are not cheap. Big Sisters appear after you rescue or harvest all the Little Sisters in a level...and you HAVE to fight them no matter what. Think of them as a constantly-recurring mini-boss.


Confusing Storyline and Gaps:
---While the timeline gap is filled in quite nicely by the diaries laying about, the main storyline of the game can be really confusing. It did not come together as quickly as the first one did (minus the twist), and you spend the majority of the game wondering what is going on, why Sofia Lamb made this Rapture 'family'...what she truly aims to do, and even when you find out, it still doesn't seem like everything has been laid out on the table and that things are missing. It just seemed really odd...


Limited amount of First-Aid Kits and EVE Hypos can be carried:
---Whereas in the first game you could carry 9 kits and 9 Hypos...in the second game you are limited to 5 until you buy another slot for one more item (which costs ADAM which then forces you to gather)


Enemies are harder to kill:
---Even when weapons have been upgraded, enemies are still hard to kill. Even smaller Splicers which (in the first game) could be taken down with a zap and a wrench to a face..now they take 3 bullets, and 3 hits with a drill before they go down. Then, when you are fighting Brutes, Big Daddies, or worse...the Big Sisters...you have a long battle ahead of you.


Lack of Resources:
---In the first game, Eve Hypos were scarce, and certain ammo was hard to find at times when you did not have enough money to buy it...now in this game, EVERYTHING is like a survival game. You get a bullet here, or a bullet there. Sure the Splicers drop ammo...but it's not fair to only get back 6 bullets when it took over 20 just to kill the damn thing!! Money is also scarce which makes buying things a problem, and Health Kits are hard to come by. It's all about looking everyhere!


A room you cannot get out of---for real?!
---Near the end of the game, there is literally a Prison cell that once you walk into it, you cannot get out of it. During a certain part, you are asked to go inside cells in order to locate a PIN or PASSWORD for the door to the Warden's Office. So, I walked inot this dark cell, then someone shut the cell door on me, and I was trapped in eternal darkness. No one knows if this is really part of the game or if it is a glitch...but, after you get shut into that room, your only option is to start over from your last save option, so I hope that you kept those autosaves. You will need them.


NO FINAL BOSS BATTLE?!
---One of the biggest things about Video Games for me (and I'm sure that others can agree) are the Final Boss Battles. While you play, you have built up this hatred for the main bad guy, and to finally get there to them, and have the chance to kick their ass...it's always so amazing, so thrilling, so...beautiful when you finally land that killing blow, and then you feel super accomplished for beating the game. BUT THERE WAS NONE OF THAT HERE!!!!!!
Sofia Lamb was not your final boss...in fact, the last guy (with voice-acting) that you kill is the guy that has been helping you this whole time (Sinclair), because LAmb has locked him in an Alpha-Series suit, and he asks you to kill him off so he no longer has to suffer. There really was no surprise twist at the end, the big battle at the end was just killing a massive horde of people as they came at you in waves (too easy), and then, you destroy two glass pipes before it is all over.
No sweaty palms, no feeling of accomplishment, no terrifying battle that is so challenging you're tempted to just put the controller down and quit...nothing like that!!! I am super disappointed by this, and that alone is the main reason why this game scored a nine


Shit Ending(s)
---The first game had such a touching ending (if you rescued the Little Girls), and even the bad endings were very sad/touching and good. But with this ending...it's just weird. Either all is well, Lamb lives, and you still die but Eleanor absorbs your ADAM, or Lamb dies, you still die no matter what, and Eleanor grieves your passing but nothing more. The endings still did not give you insight as to what would happen next...it never gave closure to the Rapture thing by saying "it is over" because it was only a part of the city that was sunk by Lamb into the ocean...but there was nothing leaving the story open as if to say that there could be more...so that leads to the next point...


What now?
---There was no Boss, there was no real ending...where does it all go from here?

------
All-in-all (as I said before), the game was not all-bad. There were parts where it got frustrating and all that. but ultimately, it was still really enjoyable and still made you curious as to what was going to happen next. They storyline was rather touching once you got the gist of what was happening...but all-in-all, they did not put as much into this game as they could have.
Here is the thing, I still have not played the DLC for the first Bioshock or for this one, but, I do own them...and I do plan on playing them as soon as Taz takes on Infinite and we beat that.
There were also more points I did not like about the game...the fact that you could no make things like special ammo or plasmids, just the lack of different weapons ans plasmids in this game made me sad...but I'm too lazy to liste them all right now. That, and, the fact that you don't really get to know much about the guy who is helping you all throughout the game, and then you have to kill him...that also was terrible.

But, again, these reviews are just my personal opinion, so, feel free to add your own comments below on what YOU thought of the game and why my score is accurate or not-so-accurate. As always, this is all I have for now...but until the next one:
Have a nice day everyone!!!
Beat: January 23rd, 2014
Console: Nintendo DS (remake)

Play Time: 32 hours
Final Team: lv.62 Dark Knight, lv.62 Devout, lv.62 Blackbelt, lv.62 Ninja
Rating: 8/10
Yessssssss!!! I finally did it! Yesterday I finally beat Final Fantasy 3 on the DS!
You have NO idea how much trouble this game has given me...but asides from all that, I still found the game to be really enjoyable asides from the typical challenges that most FF games tend to pose for someone like me.
So, let me start by telling you my tale on the Final Fantasy addiction that I have...
My addiction and fandom began when I was still in Elementary School (I think), and I spent my summer with a babysitter. The sitter was a friend of my Mothers and the oldest son was one of my closest friends. Well, he had a playstation and a lot of different games. One that he had never really played before was Final Fantasy IX. I had never seen the series before because I did not even own a Playstation...but, needless to say, because it was the only game he had never beaten, we decided to give it a shot.
I instantly fell in love. The storyline, the characters, the leveling up and etc. I was hooked from the minute I got to name Zidane (I named him Gohan because I was so madly in love with DBZ). Anyways, it was the final battle on the game, and our characters died. I was so depressed because we had worked so hard on this series...then, all of a sudden, an Angel came down from the sky and revived the whole party to full. It was the closest thing to a miracle that I had ever seen and after that, the magic of that moment made it so that I had to play every Final Fantasy game that I could.
Needless to say, once I got my own playstation, I needed the series...and my Mom got me started by getting me #7 and #8 for Christmas one year, and then two years later, I got a PS2 and a friend introduced me to #10 which I beat in under 94 hours (which is actually pretty impressive).
Also while in Middle School, an ex-boyfriend decided he did not like the old series Final Fantasy...and he gave me his collection games which had #5 and #6---thus the collecton was growing.

Anyways...I SUCK at the older games. I was decent at #5 for a brief time until my character classes were not high-enough leve to beat certain monsters in the desert. I lacked the strategy to really progress anywhere, and in my frustration, I quit the game. Same thing happened with #6...I was doing so well for a time in the beginning, and then I got lost and ended up wandering around because I could not remember what my objectives were.
But I am getting off track...
I found FF3 for the DS while I was going around Disc Replay (a secondhand game shop that is absolutely AMAZING). I basically begged my g/f for the game because I had not seen it until this very moment and there was only one copy of it. She said that is she bought it for me, I had to promise to play it. I promised...but within the first 45 minutes of the game, I got lost.
While trying to find the Gnome village I was lost and under-leveled. I got frustrated, and put the game down. I would not even pick it up until about 2 years later when I decided that I needed to stop being such a baby and really go and play the games I had before buying new ones. This game has been nothing but frustration and tears for the most part...but GOD, beating it has made me feel so accomplished, and now, I am ready to take on #4.
Now that you know the tale...lets get to the review, shall we?
Note that I wont make this review as detailed because I do want to play this game eventually
-----

The Pros:
1. Loveable Characters: Final Fantasy 3 has a decent storyline...but it is mostly the characters that you tend to fall in love with the quickest. Each has their own life and way of dealing with things. Some are more reserved, others more bound by honor...then you have the nonchalant characters, and you get a female in the permanent party which was a first in Final Fantasy history at this time.
2. Supporting characters appeared in this game. People would follow you around during certain quests which gave you a larger cast of people to come to love and hate. Plus, supporting characters would eventually help you out in battles and it was really helpful whe you were in a dungeon and/or a really hard area.
3. Drama!! There were so many instances in the game which were heart-wrenching. Because you come to love the characters so much...when anything happens in the game that is very dramatic, it feels like you are there experiencing it first-hand.
4. Challenging --- the game is not a walk in the park like the first couple of games tend to be. You really have to level grind to get anywhere in the game. Bosses like Garuda and the Cloud of Darkness will kick your ass a thousand ways from Sunday and if you're not prepared to spend some long hours getting up your job levels and experience levels, then this is not the game for you. But, for the hardcore gamers, ir provides a pleasant challenge.
5. More Job Classes: FF3 introduces so many new character classes...and in the original version, rather than start off as a minstral, you begin your quest as an Onion Knight (which is a bonus class in the remake which is obstained from the online play). But whereas the first game keeps it simple with just the Warrior, Thief, Monk, White Mage, Black Mage, and Red Mage...FF3 adds in upgrades to classes and other jobs.
So now you have Knight, Dark Knight, Viking, Evoker, Summoner, Devout, Sage, Magus, Bard, Geomancer, Ninja, Dragoon, Blackbelt, and so many more!
6. Plenty of Gameplay hours and replayability: I beat the game after 32 hours and still have not found everything and/or all of the mystery dungeons, plus, I have not tried out all of the job classes...enough said!
7. Beautiful music and unique surroundings.
8. Enemies and avatars in full 3D
9. Fat Chocobo!!
10. More ways to travel the World: Chocobo, Canoe, 3 different types of Airships, and the return of the Airship that can go underwater!!
11. Traveling between different realms: You will have to see this for yourself! But the world is so much larger than the other games!
12. Quicksave feature and multiple save slots!
13. Mini-games! <---though very few.

14. Wi-fi options: Using Nintendo Wifi on the DS version of the game, you can mail your friends back and forth, and, communicating with so many people so many times unlocks bonus content including the Onion Knight class!
15. Mailing in-game characters: You can send a mail to an NPC in the game and they mail you back!

----
The Cons:
1. The Story: it was pretty bland...it basically followed the same concept as #1 where the Warriors of Light had to restore grace to the Crystals which had become afflicted by Darkness. Granted, this story was a lot deeper because of a Dark Lord that had stopped the flow of time to save himself from dying, but created the Cloud of Darkness and etc...but still, it was all the same concept. I think personally the side stories were better than the main story itself.
2. Objectives become confusing: It is the same problem I have with all FF games. I lose track of the objective and/or there is just something that I am not understanding. My first experience with this is that I got really, really lost when trying to find the Gnome village. Not only did you have to use the "Mini" spel to shrink, but you had to find one certain spot in a huge patch of woods to enter the village itself which could get frustrating when you could not find it. Same when you get past a certain part and you are supposed to get shot out of sky. No one tells you to go to that area...you just have to run across it by accident.

3. Boss Battles: The Boss battles in this game were a bitch. There was not a single boss fight that I walked away from like: "Wow...that was so freakin' simple". No. They always had some super move that would wipe out half your party in one turn, and, without the right Profession equipped, you were doomed to fail...and this made me very angry on the inside.
4. Constant Job Changes and Form Changes: I understand that they wanted to make the game more difficult than the others, and they wanted to add new elements by introducing the new classes...but, there were better ways to go about things. For instance...having to shrink to enter the Gnome Village, having to use Toad to get into the Water Temple, and then having to change Professions just to defeat certain bosses or get past certain areas. I know they want you to try everything so that you can find what combination suits you...but between the job-leveling and the fact that forms are so weak and take MP or items just to reverse, it all became really, really frustrating.
I needed to be a Scholar to beat one boss, and then I had to get a Dragoon just to defeat Geruda (which took me 3 tries). It made me really angry.
5. A less than satisfying endling: After all the hype they build up with the Cloud of Darkness...you would think that the ending would be a lot more...well, grand? The Cloud is defeated, the heroes exit the world of Darkness, drop everyone off at their respective village, and that's it, that's the end. Pretty stupid if you ask me.
----
So...all-in-all, it is not my favorite of the Final Fantasy series. I am really proud of myself for having beat it just because I suck at the games with job classes and etc. But seriously though, this game seemed like it took me ages to get through, but, once it was all over, I had a smile on my face and was ready to tackle the next challenge. While I did get lost often and really frustrated...I think I have a pretty good idea of how to do things in FF3 (the original) which I will eventually do the playthrough for later on (after we beat the first Final Fantasy and we get past #2 as well).
So that's all I got for now. If you have played this game and have any tips, advice, and/or general comments on the game...feel free to put them in the comment-section below. Untl next time: Have a nice day everyone!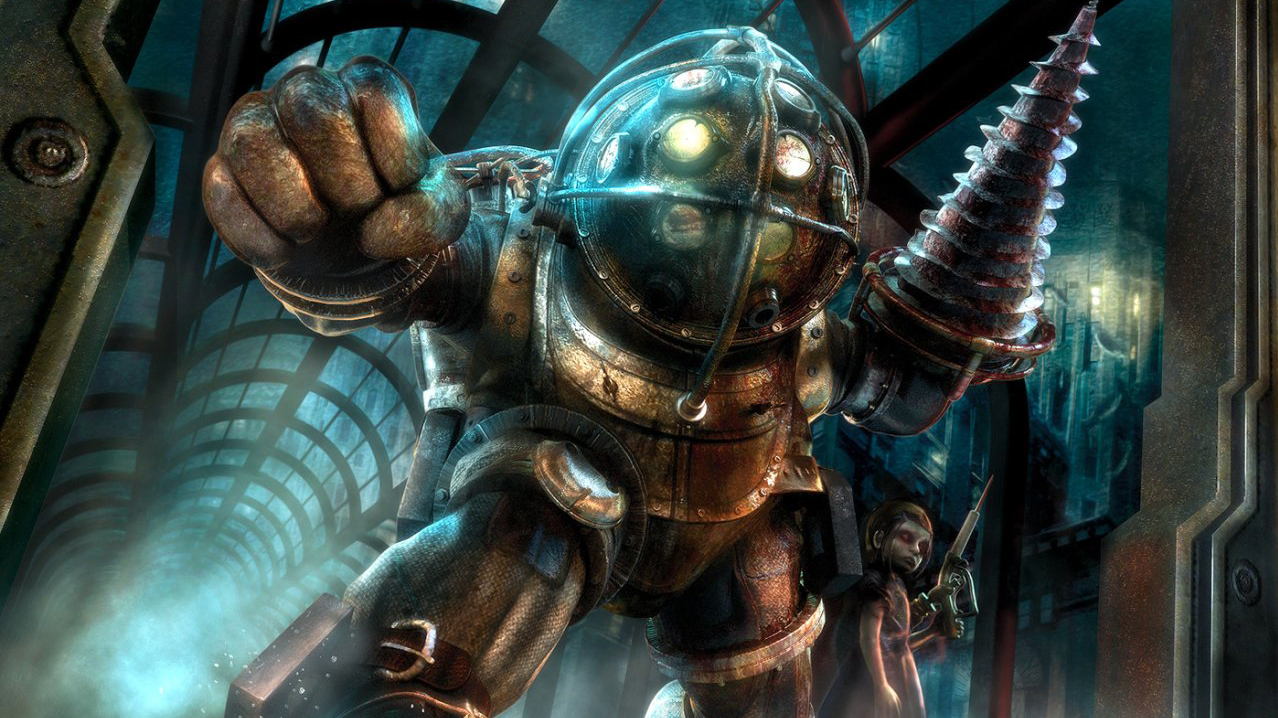 Date Beat: January 19th, 2014
Score: 10/10
For those that know me, you know that it is not very often that I can say that I loved a game 100% and enjoyed every single aspect of it without complaint. But, when it comes to Bioshock....there is not a single, negative thought that even comes to my mind as I try and write this review. Of course, these reviews are not professional and are just my biased opinion...but wither way, I am going to tell you why this game is one of the best that I have ever played on the XBOX360 Console.
--- So the first element of Bioshock that drew me in was the Story behind it all. Stories are what are most important to me when it comes to games. I have to be interested in what is going on in order to really complete something. That is why, when I review games, the first thing I mention is whether or not the story was fun and really had me curious as to what was happening next.
Bioshock delivered this element so well because it started the game with a plane crash!! That's right...you are a man in the plane that is staring at a photo of his family when all of a sudden, the plane goes down, and your first moments of gameplay are swimming around in the ocean which is now engulfed in flames with floating plane parts. You can even watch the tail of the plane sink until it is completely out of site. Already the game has you curious as to what will happen next, your heart is pounding, and you already want more!! Then, when you enter the underwater city of Rapture, you just get all the more curious.
The funny thing is...I knew the storyline of Rapture because I had friends that had played the game and had told me about it (not in full detail, but I got the gist of things). So, I was already thinking that there were no surprises left to be had and that the game would be kinda boring. But no!!! Every time I turned around in the game, there was some new twist or something else going on. Not only do you have the current story going on (the one you are actively involved in), but, scattered throughout the city are these diaries that allow you to listen in on how the City started, what it was like for residents living in Rapture, conspiricies and crimes...you get this full, in-depth history and tale so that you feel like you are really there in Rapture, and it keeps you wanting to know more!
Next thing you know, you are helping some man named Atlas who is leading a revolution against the King of Rapture. Then you are being chased by these creatures called Splicers which used to be human, but their genes were mutated so much that they became practically mental and are craving this substance called ADAM (and you learn what that is too). There are little girls called "Little Sisters" that suck the blood out of corpses with giant syringes and then drink from them...and they are guarded by these huge monsters called "Big Daddies". I could seriously go on forever...but I think you get the point.
---I really thought that the controls for Bioshock would be complicated. But, I was both surprised and relieved that the controls for the game were very similar to Skyrim. Except for the occasional change of ammo or something...everything was very smooth once you got memory of where everything was, and it did not take much to switch from one thing in the game to another.
Everything was laid out for you pretty plainly. A Red bar for health, a blue health for Mana (or in this case, EVE)...food and bandages gave you health. Drinks like water and coffee restored your EVE. First Aid kits could be collected and used like Health Potions, and EVE Hypos were similar to Mana Potions. Vending Machines sold you food, drink, Health kits, and Hypos when you found them. They also provided certain types of ammo. There were also Ammo stations for more specific ammo which was nice. All things were pretty conveniently placed and were never too spread out from one another.
Money came by often and I had more of a problem of NOT spending my money and my wallet being full. Other than that...it's pretty self-explanitory. You collect different weapons and magics as you progress through the story. I think if I did have a complaint in this game, it was that there were too many weapons that I never had a need of using, because big guns are not my thing.
Options including all your basic settings, allowed you to add subtitles to things, adjust brightness, and even difficulty if the setting you were on was too easy are hard. Lastly, there was a map that could be access with the select button...this menu also let you re-listen to old diaries you had collected, instant transmissions, and also showed you your quest log which was rather helpful if you took a long break from the game and forgot where you were. Also, you could always save your game whenever you wanted AND there was also an auto-save feature.
There are no lives in this game, and when you die, you are revived in the last Vita-Chamber you passed. But all items you used remain gone and you are only revived to half health.
---I love weapons...and I especially love weapons in games where they can be customized. Luckily for me, Bioshock gave me a lot of opportunity to play around with all my different gadgets

Seriosuly though, As you collect different weapons, you will also collect different ammo for said-weapon, and this ammo does different things. Take the shotgun for example. Not only do you have your normal rounds, but, you also have the heavy shells, the electric shells (that zap your enemies and stun them for a few seconds), and lastly you have my favorite which were the exploding rounds. The exploding rounds set your enemies abalze, and often times, they would die of the burns before they could even touch you. It was fucking fantastic!
Not only that, but, as you went further into the game, you would come across stations where you could upgrade your weapons. Each station only allows you to add one upgrade to one weapons (sad), but it is so worth it. Not only does it make your weapon better, but even the weapon's looks change. I upgraded my Pistol to max, Machine gun to max, shotgun to max, and gave one upgrade to my crossbow because it was a pretty decent weapon. they were all so beautiful it made me nerdgasm all over the place!
If you want to count your Plasmid (magic) as weapons too...well you are in luck! As you progress in the game, you can actually buy upgrades for certain Plasmids. Some of these are weapons, some of these are buffs you add to your character like reduced damage and other things to help you out along your way. It's seriously awesome!
Just the right amount of strategy
---Even though the game was set on Easy for my girl and I, the game was nowhere near easy. While at times it really seemed like a cake walk, there were some times where the game could be really frustrating, but, not hard enough where you want to set down your controller and quit. Sometimes you hit areas where you are running out of ammo quick and you feel like you might die.
There are swarms of enemies that almost overwhelm you, and there are boss battles which can get really, really crazy.
Worst of all...there are times where you are really low on EVE and don't have many Hypos. Plasmids are used all over the place, so you have to be able to conserve your power. Health kits can sometimes be hard to find as well, and you will be using/buying a lot of them as you continue to go through the game.
Not to mention all the things you have to sneak by like security cameras (we usually shot them down), turrets of all different types (flying ones, machine guns, flamethrowers, and grenade launchers)...then all the hacking you would do in the game which got relatively harder each time. Whether hacking Turrets to be your buddies or trying to hack safes...you mess up once and it takes a huge chunk of your health and can even kill you if you are not careful!
Also, with all the different upgrade options (increasing Health, EVE, upgrading weapons and plasmids), you really have to have a good sense of priority and balance. Obviously you can't go around upgrading your grenade launcher if you use mostly your machine gun and pistol for mobs. It's not too hard, but it's in no way an easy game which makes it challenging but very enjoyable.
---Zappng people in pools of water, freezing people and shattering them into chunks of ice, and then setting people on fire to watch them run around screaming. Can it really get any better than that?
How about a horde of angry bees that burst out of your wrists and swarm about multiple opponents? How about Telekenesis which can catch grandes and throw them right back? Are you drooling yet? That's right...it's fucking fantastic!
---This game is beautiful. Everything has so much detail. From the people, to the masks they wear on their faces. From the old posters and the pictures on the diaries of all the different people. You can tell when something is rusted or moldy. There was nothing passed over when it came to detail, and even the water looks realistic. My favorite parts in the game were walking through the clear hallways and watching a Big Daddy walk by to repair a leak or something.
Oil splls on the ground, coral and etc. growing in parts of the city that were abandoned. Figures made of wax and mannequins. Everything is perfect to me. We really have come a long way since the days of Pong
I would say this game is right up there with Oblivion and Skyrim. Even on the levels of Dragon Age. But that is just me.

---Just the story in general. The theories and science that had to be looked into in order to make this thing work...
With the Plasmids, EVE, Harvesting ADAM, and etc. Just the whole plot mixed with the sciences, mixed the scenery and everything else, this game is truly unique.
Funny Moment with my woman.
---I love it when my girl and I play video games because it is always so funny (even when it can be really frustrating). She easily gets overwhelmed and starts to panic when too much is going on, on the screen. It makes me chuckle just thinking about how she would press the wrong button, and instead of firing the Shotgun like she wanted, she would accidentally switch out for a Wrench and then run away in a panic, trying to switch back to her other weapons.
I also think about her shooting lightning like she had a blindfold on and her curses when she got hit. But not only is it the funny memories that get me, but just the pure excitement of it all. When we would beat a boss or get past a really confusing part, we would give each other a high-five...and the teamwork made the game all the more better really. I loved watching her get into the story just as much as I did, and when there was a twist, we would both freak. I also remember the final boss fight...and when we finally took down that last enemy, we hugged and then kissed because we had finally gotten through this game.
It was a bonding experience...it really was...and it makes the game very close to my heart for that.
---I am the type that likes to earn badges for funny stuff, and Bioshock has a lot of achievements to offer for some of the funniest stuff imagineable
I won't go into too much detail, you will have to discover them all for yourself!
Choices which influence Game Ending.
---I love it when a game allows me to make choices. I like it even more when a gme has multiple endings which are then influenced by said-choices. In the game, the main choice is whether you decide to kill the Little Sisters by harvesting them, or whether you decide to Rescue them instead. Obviously the choice does not seem too apparent at first. Rescuing the little girls gives you less ADAM to spend on Plasmids...but, when you rescue enough of them, they occasionally leave you gifts that will come in handy.
If you rescue all of them, you get a really touching ending which will make your heart smile. But, harvest even one of the little girls and you get a power-ending which is not all that pleasant. Harvest all the little girls and you get the same power-ending, but with a sadder and more hostile narration.  But I love how it all comes down to morals and how YOU want to play your character. I really like such freedoms in a game.
So, in conclusion to all this...again, there are very few things I could say that I did NOT like about the game. Sometimes the game got really confusing and I oftentimes got lost (but I do that in all games). There were some instances where I got tired of an area because there were too many cameras and I was tired of always having security bots chase me. The hacking was terrible as it got harder, but it was necessary because I loved switching the turrets on my enemies. The only other thing I did not like was when I got really short on ammo...
But all of this stuff could be overlooked. With the old-style music, all the details, the great story, and the addictive gameplay...all that other stuff seems like nothing.
Anyways...that's all I have to say. Maybe some day in the future I will play through Bioshock again for all you guys. But, until then, I will see you in the next one. Have a nice day, everyone!
Release Date: 2012
Beat: 11.18.2013
Console: 3DS
Rating: 7/10
                So, for those who have read my previous blogs, I just got a 3DS yesterday, and already I have beaten one of my nine games: Super Mario Bros 2 (exclusively for the 3DS). As per the usual…it is now time for one of my infamous game reviews.
For those that remember the review for the prequel to this game [HERE] I actually praised it, and rated it rather highly for such a short-game (I beat it in a week). I guess since the second game is only for the 3DS, I expected it to be something extraordinary…but, as you can see, I have only rated this game 7/10.
                So lets first delve into the storyline. Whereas the first game on the DS actually had a movie scene where Mario gets distracted by lightning and goes to investigate (which allows Peach to then get stolen by Bowser Jr.), this game spares no time in kidnapping the Princess as the gang (Mario, Luigi, and Peach) are walking along and then the maiden in distress gets swooped up by the Koopa Troopa (Bowser's 5 other children). The Koopa Troopa first appeared in Super Mario Bros 3 for the NES, showed up again in Super Mario World for the SNES, and then made a 3D comeback on the Wii when Super Mario Bros. was released on that system.
                They disappeared during the Prequel to this new game and left poor Bowser Jr. to try and do his Father's dirty work, and now they are back again. In the main game for the NES, the point in beating them was to take away their wands which had been stolen from Kings. These magic wands, when stolen, had turned the Kings into strange creatures which you then had to restore back to their former selves by hopping onto a Pirate Ship (a flying one) and then battling the Koopa at the end. Anyways…in the Wii Version, the Koopa Troopa stepped things up a bit. First you would meet them in a mini-castle within each world and fight a Monster that they then enhanced with magic (like Kammy Koopa does in Yoshi's Island). Then the main castle at the end of each world would then be a showdown with the Koopa in charge of that realm, and beating them is the common mechanic of jumping on their head 3 times while avoiding their shell attacks and other obstacles.
                You go through all six of Bowser's Children, and then face Bowser at the main castle for the ending. Simple as that…
                But, this game (the sequel) moved away from what the Wii had done (for the most part) and took a  more simple approach. Now instead of beating enhanced Monsters that fit the element of the world that you were fighting in, each mini-castle merely consisted of Mario knocking dinosaurs off of a Ferris-Wheel-thing…and each new Mini-castle had more dinosaurs and a different layout for the Ferris Wheel…but it was practically ALWAYS the same battle.
                The thing that I found weirdest about the game was that, even though you are fighting the Koopa Troopa, Bowser Jr. is nowhere to be found! I understand that you practically killed both him and his Father (his Dad died twice) in the last game by knocking them into lava, but, were that the reason for his disappearance, that would not explain why you fight a perfectly healthy and normal King Bowser at the end of the game…
It's like they deliberately just let a character go missing with no explanation at all…it's odd.
I really wish there was more to say about this game, but pretty much it's the same shit on a different day. Recycled tracks, similar land layouts as the Wii and DS version---there really was nothing too new. But hey, I'm going to go ahead and make a list of the things I liked before I start naming off the things that I was otherwise not too fond of:
Pros:
1.       Return of the Quicksave feature from the Wii Game --- I am one of those people that believes that you can never save too many times. Every time someone has bothered me about saving too much, I end up saving too little, and that really bothers me, especially when I then find myself stuck in a really tough spot.
I was disappointed when I saw that the DS game did not have the Quicksave feature…because I could only play on my way to work, and, if I had not beaten a Castle or unlocked any secret paths (so that I could save my progress), I had to go and beat up to 2-3 levels all over again just to catch up to where I had been before I had to shut the game off. While I never had the need to use this Quicksave feature for the new game, I was still glad that it was there so, if the need arises, I could shut off my game and then just pick right back up where I originally left off…



2.       Return of the Tanooki Suit --- one of the things that had me bummed about the last game was the lack of suits. They had taken away the propeller suit, and, on top of that, they barely had anything of use except for the fire flower. I was super excited when I saw that they had reintroduced the classic Tanooki Suit, jus for this game (and on top of that, it had the old meter too). While I was surprised that I did not fly through more levels with it, it still came in handy on multiple occasions.



3.       New "Golden" Features: Blockheads, Golden Rings, and Golden Mario --- By looking at the cover, you can tell the theme of the game really quick. Much as we would like the Mario game to be witty, challenging, and fun at the same time, it would seem that this game was used for one thing and one thing only: to make money. In fact, gold and money is what this game is actually based off of.
So…first we have the golden blockheads. When you hit a block 10 times (for coins), it turns gold and then gets tuck on Mario's head. Now, every movement that you make creates coins behind you that automatically collect as you pass. This block is only temporary and will fade in time, and while it does deflect 1 enemy attack, it does not change your suit or the said-power of your suit. So, if you're a fire flower Mario, even with the blockhead you can continue to cast fireballs all day every day

Then you have the Golden Rings which (instead of spewing out red coins) turns enemies into gold, and blank blocks into coins. A koopa that is kicked will create a trail of coins behind it, and other weird things happen as well. Finally, we have the "golden Mario" which consists of Mario finding a power-up that is a golden color rather than its usual. I know that the golden fire flower Mario shoots out gold flames that creates coins everywhere and can bust through bricks. I know that the golden Tanooki is actually a white Suit, and it also creates several coins.  Cannot tell you all how tempted I was to re-play the older levels just because of how many lives I could get.



4.       More amazing soundtracks with enemies singing and dancing along! ---This one explains itself.



5.       Epic Final Boss fight w/ chilling music, a tense atmosphere, requires quick thinking, and it still leaves your palms sweaty. ---I will admit, it was not gory like the boss fights were in the Prequel game. We did not start off by killing Bowser and watching his bones sink into the lava below. Instead, we got to fight the largest version of Bowser I have ever seen on a DS screen, and you had to pay attention to every little detail in order to defeat him because it all was madness. You had to move away from where his eyes locked and then jump to the right platform or else you hit the lava and would die. You had three different levels of this. Before the platforms started moving, you had to jump over his massive fire attacks and it was all very exciting to my surprise. He was still alive and kicking, full flesh and blood…which makes you wonder: the Koope Troopa were around and in the game, but why wasn't Baby Bowser? Hmmmm….food for thought.



6.       New Worlds that unlock in the end just like the Wii Version---Even though I hate the different worlds that unlock after you defeat the Wii Version, I'm still glad that for this game, they added the feature in. The game itself is so easy and very short as-is (only 6 worlds), so, for those that like game completion and etc. as something of an OCD-thing…then this is something like good news/ bad news for you.
7.       New Mini-games in the Mushroom huts so that you can earn items. --- No more card flipping or block bashing. Now you have to be quick and keen, gotta hit giant boxing gloves to knock green mushrooms off the rail and etc etc. It makes getting lives (at least via the huts) much more challenging.
So you see? There was plenty that I liked about the game…lots of stuff that I admired about it that made it fun. But, since I mentioned all the good things…I think it's only fair that you see what I did not like the game, and you can then begin to understand why it only got a 7/10 rating:
The Cons:
1.       Same shit, different Day--- Same generic storyline as always with the similar level-builds to all previous games. Same world layout (almost ) as the Prequel which made this game lacking in things new, and it was less exciting because of this.



2.       Too Easy---The game itself seems so much easier to play than previous versions of Mario. Mainly it is because of the new 'golden features' which makes completing a level more like gold-farming…to attest to this, I beat the game with 115 lives, on my first day of playing it, and beat the Final Boss and Final Castle on my first try.


3.       That's a Boss? ---The Boss fights are pretty stupid, but the worst ones are in the mini-castle. There are no unique bosses like before, you just have to knock dinosaurs off some platforms because they kill all the tiles under your feet and you fall. Towards the end, these dinosaurs learn to breathe fire…odd. Even the main Castles lacked excitement as fighting the Koopa Troopa held the same basics of merely jumping on their heads 3 times to win. There was just no challenge in the game.



4.       Still no Yoshi --- I cannot forgive you, Nintendo.
The Yoshi's and their different abilities always make the Mario games so great. I understand the game is short like the prequel, but there were plenty of opportunities where a Yoshi would have really come in handy and made the game far more enjoyable.



5.       ZZZzzzzzzz…. --- I found myself getting really bored with the game and practically motivating myself to finish it just so that it would be over and done with. It was so much like the previous game and yet it lacked so much even though they could have taken it so far by using the new console. Whereas I usually strive to get all 3 elite coins before finishing a level, and I take my time so that I do not miss anything, by the time I got the final world, I was just running through the levels just to get it over with. I feel like a game should never bring someone to that point. Ever.


6.       3D gameplay was not 3D --- It says that the game plays in both 3D and 2D…I feel like I got ripped off by this game because, even when you have the 3D screen on, the game just does not look right. Honestly, having it being a 2D, 3D-thing beforehand was so much better and gave me a less of a headache. I just thought that because the game is only for 3DS that it would have some special 3D feature that made it worth the money to get…but no. The game was the same as the last one. Somewhat sharp 3D models (at times), but otherwise it was just really rounded 2D side-scrolling. Nintendo could have done so much more on their new platform, and they just did not take the time for it with this game. I think this game should have been made for the normal DS instead since it did not include any new features which required it be compatible with the 3D screen.
So…with all that being said, you can see why this game only got a 7/10. It was not unique, lacked a huge story amongst other things. I'm not saying to not go buy it…because if you are a huge Mario fan and figure you would love it, then by all means, buy it.  But, for me personally…compared to the hype that I gave the first one, this one mostly just came off as a disappointment.
The game itself would be great for kids since it is not too challenging, time requirements for the levels are rather long, and the only level that gave me a hard time was a bonus one where you used the shrink mushroom. I think as a co-op game or maybe a family game, this would be nice as well…but for solo-play it lacks a bit of charm and, as I have said already, got rather boring after awhile. Either way…I think that's all for me today.
Still, leave me a comment on your gaming experience with this title. Let me know ehether you agree or disagree on some things. I'm always trying to have conversations with new and interesting people, so I would like to see what your personal thoughts are and how they may differ from my own.. Hope you enjoyed this very unprofessional review of mine, and I will hopefully be seeing you in the next one. I'm off to play more games, but until next time:

Have a nice day, everybody